We are a leading manufacturer based in China with a specialization in crafting premium quality acrylic frames and acrylic blocks for various applications.
Our extensive product range encompasses a wide array of options, including acrylic frames, lucite blocks, plexiglass frames, plexiglass picture frames, and poster frames, among others. With our diverse offerings, we cater to the unique needs and preferences of our esteemed customers.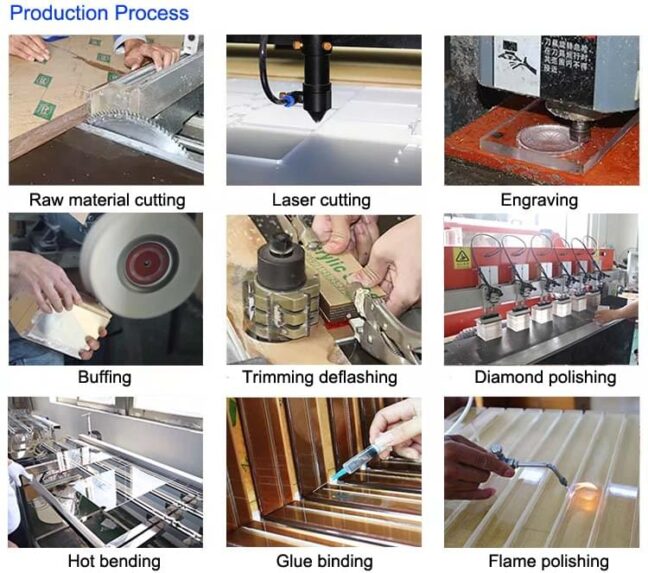 At our company, customer satisfaction is our top priority. As part of our commitment to excellence, we offer free design services, ensuring that our customers' visions are brought to life in their custom orders. We also waive tooling costs for custom orders, making our products accessible and cost-effective for our valued clients. Moreover, we provide samples for approval before proceeding with the final production, ensuring that our customers are completely satisfied with the quality and design of their orders.
Our products have gained immense popularity in various markets worldwide, including the USA, Europe, Australia, Japan, the Middle East, and beyond. We take immense pride in our ability to cater to the diverse needs of customers across different regions, and our commitment to providing superior products has earned us a solid reputation in these markets.
With a team of skilled craftsmen and state-of-the-art manufacturing facilities, we ensure that our products are crafted to the highest standards of quality. We use premium-grade acrylic materials that are durable, lightweight, and resistant to breakage, ensuring that our frames and blocks stand the test of time.
In addition to our exceptional product quality, we also focus on providing top-notch customer service. Our responsive and knowledgeable customer support team is always ready to assist with any queries or concerns, ensuring a seamless and hassle-free experience for our customers.
Whether you are looking for custom products for personal use, wholesale orders for retail, or for any other project, we are here to help. We pride ourselves on our quick response times and efficient order processing, ensuring that our customers' needs are met promptly and accurately.